One of the main reasons I started What's up Blogging? was to share more about my blogging journey and to create a resource of information for other bloggers, creatives, and website owners, so I have decided to start a blog income report.
There are various reasons why. Mostly, I like the idea of sharing my successes and how I am earning money so you how to be successful as well. I am NOT doing it to brag in any way shape or form. I am humble about the money I earn. Every. Single. Penny. I am blessed beyond measure to be able to work from home only 20-30 hours a week, homeschool, and make a full-time income.
However, I will not be including exact numbers in my income reports. Let's just say that last year, 2015, my full-time income was a small full-time income, only slightly less than my husband earned via his graduate assistantship stipend from the University. Sadly, it was still more than his first full-time high school teaching position a few years ago. But, a full-time income (no matter how small) from a job I love, that I work when I want, how I want, and if I want, is pretty incredible.
For now I am only including information on my main blog, What's up Fagans?. What's up Blogging? is brand spanking new, so I am making $0 right now. I spent over $400 setting it up and hiring someone to design it for me. Definitely not seeing a positive return yet since I haven't even started promoting it. That's what I hope to do in April, I assuming I get around to it, cause, Life.
So, let's get to the details about my money making blog. Several links are my personal affiliate links. It's one way I make money. Thanks for continuing to support me.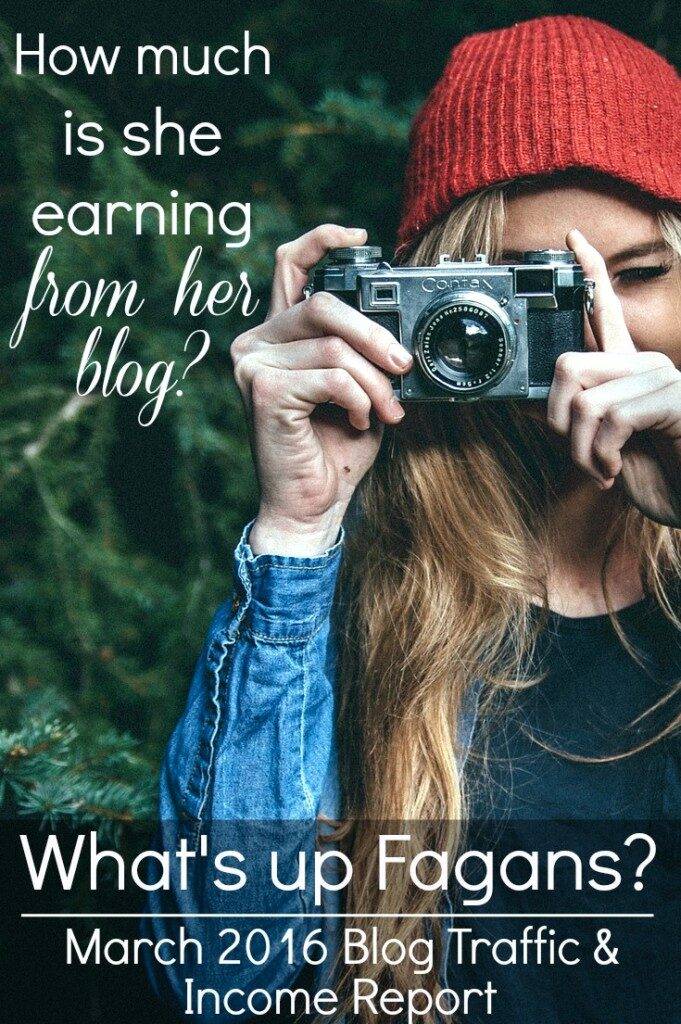 What's up Fagans? Blog Traffic March 2016
March was a depressing month of low stats, even lower than February which had two less days. Considering I had over 350,000 pageviews in January, my best month ever, this was a big low. Pinterest made some major changes and it majorly affected my traffic, about 50% of which is driven from Pinterest.
Sessions: 190,682
Pageviews: 225,924
Users: 178,194
Average Session Duration: 2:20
Bounce Rate: 23.11%
New Sessions 86.39%
Where I get my traffic:
43.4% Direct (this is larger than usual this month because Pinterest changed its reporting so now much of it is counted as direct rather than Social. Last month Direct was only 27.5%)
38.4% Social (last month it was 55.2%)
— 93% from Pinterest; 4% from Facebook; 1% from BuzzFeed; 2% Twitter, SU, G+, and everything else
12.5% Organic Search
5% Referral
0.7% Email/Other
As you see, I rely heavily on Pinterest for traffic, which is why I saw a major decline this month as Pinterest made some major changes across the board, affecting about every blogger I know. I have some new pinning strategies in place for April, so I hope to see my traffic go up.
New Posts:
On What's up Fagans? in March I put up 12 new posts, which is good since I am shooting for 3 posts a week, M/W/F.
Six of the twelve posts were sponsored. One was a guest post from my friend Courtney.  One was a round-up post on Easter Traditions (see THIS post about how to use round-ups effectively).
My most popular post was "Dealing with Potty Training Regression? Ask Your Toddler This One Question." It earned almost 3500 pageviews this month, somehow gaining lots of pins. For a new post, it's great to see something take off again on Pinterest again!
What's up Fagans? Blog Income March 2016
Despite having the lowest traffic in more than a YEAR to my site, I was paid the MOST I have ever earned in a month. Which reminded me that I need to stop comparing myself and my blog to others. There is no one way to make money from a blog. This is also why I decided to share my numbers.
Here's what you need to know about my site:
I sell ZERO of my own products. No ebooks. No courses. No printables. No crafts (goodness no). I make almost all of my money from three things – Ad networks, Affiliate Marketing, and Sponsored Posts.
I also have a fairly small social media following, especially considering the amount of traffic I receive, and my mailing list isn't very large either. I have between 2,000-3,000 followers on each of the following platforms: Twitter, Facebook, Google+, Email List. I have less than 1000 followers on Instagram. Pinterest is my biggie with over 20,000 followers. I gain about 400 new followers on there a week. Every other platform grows at a snail's pace.
I recently purchased Strategies Worth Sharing: How I Grew My Facebook Page from 2,000 Likes to 100,000 Likes In Five Months to hopefully learn how to do Facebook right. The author is a good blogging friend of mine, and I really do love following her Facebook page. It's one of my favorites! I have almost finished reading it and it has lots of great information about the various and common blogging Facebook strategies people try and which are actually good to do or not.
Ad Income: Down $100 from February
I made the switch on March 4 to ditch The Blogger Network for my ads, as well as a few miscellaneous ad networks (Media.net, TripleLift, and SwayyEm), to have MediaVine be my exclusive ad network for all of my desktop ads.
I had heard great things about them from a few blogging friends. It was rough the first few weeks, but it's definitely going up in RPM and income. I don't know if I will make as much as I was before from all the other ads I was running, BUT, that's kinda the point. I had so many ads in my sidebar. Now I just have two. And they load way faster and cleaner than the ads I ran with The Blogger Network, which means my site doesn't crash or lock up, which was an almost constant issue I was having with TBN. Plus, their customer service is great. I actually made great money from The Blogger Network and still recommend them for many people, but MediaVine is even better.
I also definitely recommend PadSquad for mobile ads. I have been with PadSquad for over a year and a half, and I am very happy with them, especially lately as we've (not just my site) seen consistent income every month, which is fantastic for someone who is self-employed and relies on this payment each month to schedule bill payments.
March had extra high ad income because I also got paid for a 2 week ad placement in my sidebar for The Church of Jesus Christ of Latter-day Saints promoting their Easter initiative. I worked with them during December as well.
Affiliate Income: Down $300
I have been working very hard to beef up my affiliate income over the last 6+ months. I am all about building up passive income streams!  I work with many different affiliate programs and individuals. I work (and get paid) from the following Affiliate Networks. An * denotes my affiliate link should you sign up with them.
Sponsored Post Income: Up 36%
Call me weird, but I actually really enjoy doing sponsored posts. I get a thrill out of getting paid to write something, and paid well to do so. I like the challenge of organically promoting a product without alienating my readers. My goal for this year is to take less sponsored work but for higher payouts, so that I won't have to take as many anyway. In March I got paid for sponsored from:
For a comprehensive list of sponsored post companies, see THIS post. 
Products Received
As a blogger, I often receive product in addition to compensation for posts, in order for me to try out and use a product, take photographs, or buy my own supplies in order to complete the post. This month I received:
A StemBox
Amazon eGiftcard
AMEX Gift card
Mr. Clean Gift Basket
Purex Detergent
Calphalon Pan
Other Blog Income
I do some freelance work for a local (free) magazine, and got paid $40 for my feature this month, which was an interview I did with Heloise. I also did a little side job for a blog friend, and came up with 20 headlines for posts that she had written for her. If you are interested in headline help for your blog, see this post, and consider joining my Headline/Image Help Facebook Group. If you want specific help on headlines, and want to hire me, click over to my contact page.
What's up Fagans? Blog Expenses March 2016
Unfortunately, I didn't get to keep all the money I got paid this month. I had some major expenses, including a brand new computer as my previous one was on the fritz. It's been rough being without certain things which are on the other computer as our storage solution has been proving very difficult to use and access. In total, my expenses this month were more than half of my earnings. This months' expenses included:
New Computer
Paypal Fees
USPS P.O. Box Renewal for 1 Year
Facebook Ad
What's up Blogging? Website Design
BoardBooster* Pinterest Scheduling (See this post on how to use BB)
ViralTag Pinterest Scheduler* – Paid for a year. I have a shared account with other bloggers.
Event Parking
Email Mailing List with ConvertKit
Stock Photos with Adobe Photos (switched over from Dollar Photo Club this month because they made me)
IZEA* Membership Fee
Sticky Blogging* Workbook
Generally speaking, I don't have a lot of expenses every month. I pay yearly for web hosting, and some other services (like my PO box and ViralTag listed above) so that I don't have to pay monthly, which saves me more money in the long run. I also do not have anyone who works for me, like a Virtual Assistant.
If you are interested in starting a blog, or are already blogging and want more tips, see this page for more information.