Affiliate marketing can be extremely profitable for bloggers and website owners, but many don't know where to find good affiliate networks for bloggers!
Affiliate networks provide companies with a managed platform to reach out to affiliates, bloggers, and website owners and it manages their creatives (ads/banners), links, promotions, and payments. An affiliate network also gives a company more exposure to people (bloggers).
As a blogger, it's great to work with an affiliate network because you can work with multiple merchants within one platform and get paid quicker. Many affiliate programs require you to have a balance of $25, $50, or $100 before you get paid.
The benefit of working with a network is that if you make $5 from Company A, and $18 from Company B, and $0.20 from Company C, all of those payments get lumped into the affiliate networks' system and works toward your minimum payment thresholds. Whereas working with a company individually as an affiliate where you only make $5 every few months and they require a $100 payout means you may never get paid. Working with an affiliate network as a blogger means your earnings add up faster, allowing you to get paid faster.
What blogger doesn't want to get paid?
The following list contains some of the most popular affiliate networks for bloggers (all of which I have an account with), an overview of some of the more popular companies are on their network (a complete list would be way too long!), and what I like and dislike about each one.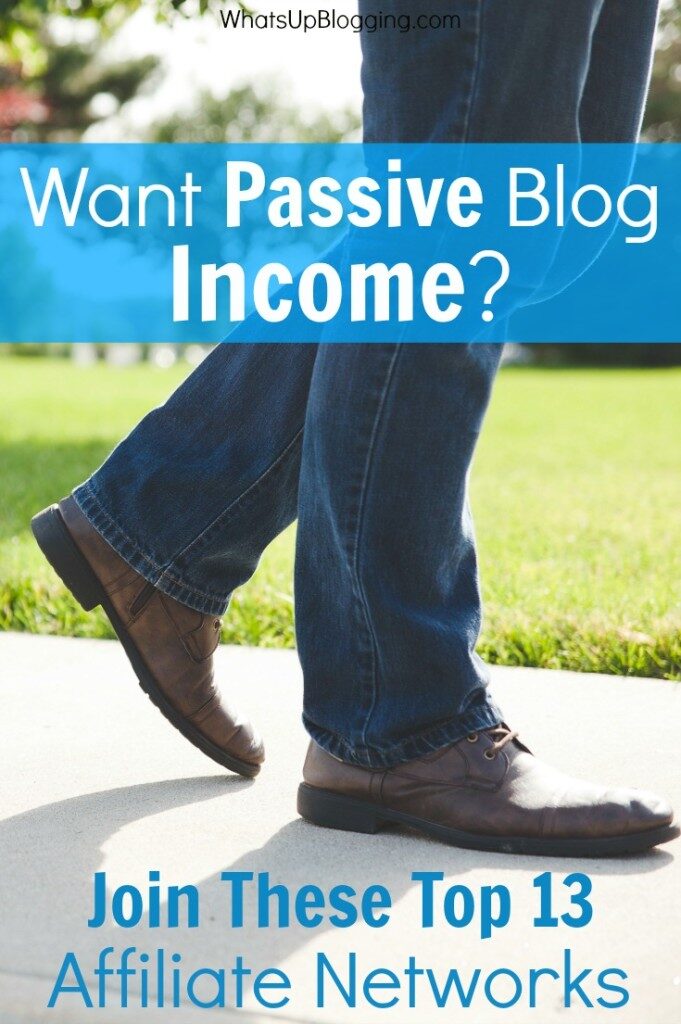 Affiliate Networks for Bloggers
1. Amazon Associates
The Amazon Affiliate network is by far one of the most popular affiliate program for bloggers. Amazon is great for bloggers because you can easily create a custom referral link to almost any product or page listed on Amazon, yet be paid for (almost) any purchase made on Amazon even if you didn't link to that specific item.
There are also flat rates offered for their bounty programs – Audible, Amazon Family, Amazon Prime, Amazon Music, Amazon Kindle, Baby and Wedding Registries, and cell phone phones with service plans. They also payout monthly with a $25 balance. But, the cookie is only 24 hours long, and the commissions rate is low, starting at only 4%.
However, it is volume based and is easily bumped up the more items you sell. It only takes 7 shipped items in a month for your rate to increase to 6%, 31 items shipped to reach 6.5%, and 111 items to reach 7%, and so on. You can earn up to 8.50%. Some products have fixed advertising fees however.
2. ShareASale
This is one of the most popular and easy to use affiliate networks for bloggers. With merchants like Craftsy, Tea Collection, Grammarly, Costume Express and Birthday Express, StudioPress, and so many, many others, it is very easy to find a company that is a good fit for your niche and audience. You have to earn at least $50 cumulative over all of your affiliates to be paid, but with good commission rates and cookie duration on most merchants, it can be achieved fairly quickly. They were my first affiliate network to pay me!
3. FlexOffers
FlexOffers is a great affiliate network if you want to link to some very popular merchants like Walmart, Target, Best Buy, Macys, Nordstrom, Sears, Walgreens, JCPenney, Kmart, Oshkosh B'Gosh, and Carters among many other very popular and recognizable brand names.
What I liked about FlexOffers is that once you start making commissions, especially in your first 30-60 days, they may put you on their VIP list which means you can get auto approvals on hundreds of programs, and it allows you to get paid faster too. Payout is at $50.
4. Commission Junction (CJ) 
Many popular merchants work with Commission Junction (CJ) – Home Depot, Sears, Oneida, TurboTax, HSN.com, Office Depot, Old Navy, QVC.com, Kmart, Lands' End, American Eagle Outfitters, Bed Bath & Beyond, Care.com, and many more. The payout is at $50. They have some neat features like their custom widgets, as well as their CJ Affiiliate Content Certified Program for style, home, tech, lifestyle, and business bloggers.
5. Rakuten | Linkshare
Linkshare is a fairly robust affiliate network with thousands of affiliate programs, however many are less common. They still have some very popular companies as well like Kohls, ThredUp, Macy's, PetSmart, NutriSystem, Best Buy, Destination Maternity and others on their platform. One of their nice features is that companies can send you Private Offers for higher commission rates than their base rates. Payout is at $50. If you live in the UK sign up with this link. 
6. Affiliate Window
Affiliate Window is a fairly large network, and its most popular merchant is Etsy. With 4% commissions and a 30-day cookie period, Etsy is a great way for many different blogs to earn some revenue. People love Etsy and you can be the means of helping people find great unique products. But, there are hundreds of other companies on AW as well, and they offer an easy to use booklet tool.
7. Pepperjam Network/Ebay Enterprise
Pepperjam Network, also known as the Ebay Enterprise Netowrk, is another fairly large network with hundreds of affiliate partners. I personally haven't done much with them, but signed up to work with Melissa & Doug and Shutterfly. Other companies there are Bebe, BJ's, CanvasOnDemand, Destination XL, Discount School Suply, Dollar General, Dressbarn, Edible Arrangements, GNC, Puma, Step2, and Sports Authority. They offer live customer support, easy to access creatives and various report options. They payout through PayPal when you reach at least $25.00.
8. Impact Radius
I find Impact Radius' system very hard to figure out. To actually see all 300+ companies in their network you need to completely fill out your profile and then in the bottom gray footer click the tiny "Join Platform" on the bottom left hand side of the screen. In their network are Diapers.com/Soap.com, Education.com, Savings.com, Target, Cabelas, Oriental Trading Company, Tommy Hilfiger, Children's Place, West Elm, Restoration Hardware, and Pottery Barn. The payout threshold starts at $50.
9. Panthera Interactive
Definitely one of the smaller affiliate networks designed for specific niches and content, the Panthera Interactive Network is a great place to earn high commissions through strategic promotion of their links. I regularly earn over $100 a month from just two blog posts that contain their links: 21 of the Best Survey Sites for Moms to Make Money Online and The Great Big List of Free Stuff for Moms.
Most of their links and companies are for coupons, deals, contests, email sign-ups, free samples, and surveys. They also work with bloggers in many different countries beside the US (UK, AU, DE, CA). Shari's Berries and ProFlowers are also in their network.
10. Escalate Network
The Escalate Network is a leading affiliate network for family friendly blogs and brands. They offer printable coupons from Coupons.com, pregnancy and kid freebies (like Mother's Lounge products), surveys, sweepstakes, contests, and JustFab. Payout is at $50. I make most of my commissions with them through this post.

11. CenterPoint Media
CenterPoint Media is another kids and family-friendly affiliate network to belong to. They have many similar offerings to Escalate Network. They have freebies, surveys, giveaways, free trials, discounts, and coupons. However, some deals come and go, as there are caps on leads, which can lead to broken links if you aren't paying attention. They payout at $100.
12. iTunes
A lot of people own and use Apple products. When you link to movies, games, apps, podcasts, etc available on iTunes as an affiliate, you can make 7% in commissions. It may not be a lot, but it can add up. It's a great program for tech bloggers.
13. E-Junkie
E-junkie is the affiliate network that many bloggers like to use to sell their personal digital goods like ebooks and printables. I recommend signing up for an account because as you start looking for products to promote, you will inevitably come across someone who is selling their product on E-Junkie. If you are already signed up, it makes it as easy as clicking a button to join a blogger's affiliate program and start promoting.
Unlike many of the other networks I mentioned above, there isn't (usually) a payment threshold. The blogger runs their affiliate program through their platform, but will pay you any and all earnings each month, even if it is only $5. The great thing about promoting other bloggers' products is that many have high commission rates of 20-50% even if their products are less expensive. It's a great way to make money blogging.
Honestly, working with bloggers or directly with companies is often a better way to go in order to make passive income. However, many great smaller companies have partnered with these above networks so it's worth having an account already set up.
Other affiliate networks to consider are BrandCycle who works with over 150 popular retailers, RewardStyle or ShopStyle if you are a fashion blogger, CPA-DNA, and AvantLink.
What are your favorite affiliate networks?