Like any professional business, especially of the entrepreneur variety, bloggers have a lot of things that they need to help grow their business.
They need better equipment, better skills, better networking, and better tools to help them do what they do even better. But, most bloggers start small, build slowly and invest their money frugally and as wisely as possible.
When you start a blog, it doesn't require a lot of money, but the more you grow the more tools you want and need to take advantage of.
It can be hard to know what to gift the blogger in your life, so here are 29 suggestions. And it's totally cool to gift these to yourself as a blogger. The plus side is that you can deduct them as a blogging expense.
23 Things Bloggers Really Want to Receive as Gifts
3 Blogging Investment Gifts
Blogging Books
It's always helpful read books about your industry. I personally recommend How to Blog for Profit Without Losing Your Soul by Ruth Soukup of Living Well Spending Less. I have been told that Launch by Jeff Walker is amazing and life-changing. I also love all the information that's packed in Abby Lawson's (of Just a Girl and Her Blog) Building a Framework: The Ultimate Blogging Handbook plus all the amazing extra videos and tutorials you can grab along with it.
I know there are dozens of other great blogging books too (I'd love your recommendations!). Here are some to consider:
Blogging Courses
There are so many blogging courses out there! And some are crazy expensive, and some aren't nearly as awesome as they claim to be, but some really do deliver a fantastic wallop of information and are a true investment in your business. I recommend the following, especially for beginner to intermediate bloggers:
Successful Startup by Alida Quitschreiber of The Realistic Mama – $497 (or 6 payments of $97). Great information for beginners on the best way to start and set up a brand new blog, social channels and newsletters for it, and how to promote your new content.
The Sticky Blogging System and Sticky Blogging SEO by Kelly Holmes of Idealist Mom – $149.  I've taken both of her courses and can't recommend enough! And she offers a great amount of information in her free courses (which are linked above) that lead into her paid ones too. The courses aren't open year round though, but are open about every other month. They have literally changed my writing and my traffic!
Elite Blog Academy by Ruth Soukup of Living Well Spending Less. – $499 or $49/month for 12 months. Ruth is pretty much amazing and this course extremely popular for the amazing information it contains. I haven't taken it (yet) but it's packed with hands-on information perfect for beginning to intermediate bloggers who are ready to get serious.
Conference Tickets
Attending a blogging conference is not only great for honing your craft but for networking! I don't think you need to attend every conference, and some are certainly better than others. I hit up the Type-A Parent Conference in Santa Fe in July 2016, but there are conferences across the country, and they are so awesome to gift a blogger, as they aren't cheap, but can be a great investment in their business to network and socialize and learn.

9 Gifts to Improve Blog Photography
One of the best investments a blogger can make is in her photography skills and photography equipment. Stock photos are nice and all, but learning how to take better images is pretty darn essential. Here are different blogger gift ideas relating to photography:
DSLR Camera
I used to have the Nikon D3100 as an entry level camera. It's been great to learn the ropes of shooting in manual. I now have a Nikon D5500 which is also great. Any high-quality DSLR with interchangeable lenses make for a great gift idea for bloggers!
Camera Lens
You may already have the nice camera, but what you really lack is the great lens! Many lenses that come with DSLR are okay, but won't do all the amazing things you generally love in photography. I love my Nikkor 35mm fixed lens! It takes such pretty pictures and allows for better pictures in lower light too.
Camera Tripod
If you want to do take video or photos while your hands are doing something else, a tripod sure is handy! A basic tripod with a bag is what I use and it works well!
Phone Tripod
If you are into Periscope, taking selfies or videos with your phone, then you should look into a phone tripod. This universal smartphone holder is great for when you are out and about as it is flexible and can hang out almost anywhere. If you want a tripod for your home, this one is great. Or you could just get yourself a selfie stick.
Camera Flash and Lighting gear
The flash that comes standard on DSLR are not usually anything too exciting or awesome. Investing in a great camera flash is wise, as is investing in some light boxes and softbox ligths, and multi-disc light reflectors.
Camera Microphone
If you plan on doing any videos, podcasts, or voice-overs, then think about investing in a camera microphone as well as a great USB microphone.
Photography Backdrops
If you take a lot of product photos or do staging at all, having a great photo background and props is so awesome. Everyone I know loves the vinyl photography backdrops from Swanky Prints on Etsy.
Photography Courses
Improve your craft by taking photography courses. You can see if your local college, local photographer or studio is offering one. Check Groupon for any available and discounted courses in your area. Otherwise, you can do some online photography courses. Craftsy offers dozens of affordable photography courses, teaching different skills, like Lightroom Essentials, natural-light portraits, product photography at home, and mobile photography.
If you are a food blogger check out Pinch of Yum's Tasty Food Photography book. Even if you don't write about food, it will help improve your photography. I meant Lindsey in Indiana at a workshop and she is fantastic!  You should definitely look into Food Blogger Pro and their current coupon discounts to save you money on your membership.
There is also Courtney Slazinik of Click it up a Notch that will help you get to know your DSLR and shooting in manual mode, especially to capture great pictures of your kids and family.
Photo and Video Editing Software
Bloggers can greatly benefit from owning Adobe Photoshop, Adobe Lightroom, and Adobe Premiere (what I use to edit video) or other photo editing and video editing software for their computer. Even a simple subscription to PicMonkey is cool though (and what I use to edit and create graphics 95% of the time).
7 Blog Tech and Office Gift Ideas for Bloggers
Along with photography goods, there are other great tech products and office goods that a blogger will love!
Computer
Every blogger needs a reliable and awesome computer. I don't care for Apple products that much (but some do), and currently use a custom built desktop computer for most of my blogging needs. But, my husband picked me up a Lenovo Yoga laptop (my first laptop EVER) so that I could blog on the go, and I think it's pretty sweet. But, with so many options out there I'll let you figure out what great computer would fit the blogger in your life.
Computer Chair
I know laptops are great in that you can take them anywhere, but honestly, your blogger needs a great chair (and desk) so that the hours they spend working doesn't do a number on their back.
Hosting
If your blogger friend still hasn't made the leap to self-hosting, help them out by paying for their first year of hosting for them. I have a tutorial on how to start a blog with BlueHost so it'll be super easy to help them get started. Plus, it's super affordable. I do not use BlueHost though, but use BigScoots who is fabulous!
Blog Design
It can be hard for a blogger just starting out to want to splurge on their blog. So do it for them. Buy them the Genesis Framework for WordPress and a pretty StudioPress or Restored 316 Design theme too (let them choose which one).
Grammarly
If you are looking for something much better than spellcheck, sign up for Grammarly. It's a powerful tool to help really polish your content. Oh, and it's FREE (unless you really want help with your grammar)!
Printer/Scanner or Silhouette/Cricut
As a blogger, you need to be able to scan documents (like contracts and tax forms) and email them to people. It's also helpful to print off those Printables you design for blog posts. Printers are pretty darn important. I don't have a strong preference for what brand (I currently use a Canon one), but get a printer with a scanner/photocopier that comes with Wi-Fi, then buy some ink, and some high-quality stock paper.
You could also gift a Silhouette machine or a Cricut machine. I still don't have one, but would love one! Think of all the pretty DIY and craft things I could do (maybe it would help me actually be crafty). If the blogger in your life is a crafter, they need this, or supplies to run the machine they already have.
Blogger Spreadsheet & Blog Planners
If your blogger is venturing into the world of monetization, it is super helpful to have an excellent Excel spreadsheet to track income, expenses, blog growth, and more.
I highly recommend purchasing (for $20) my friend Hilary of Pulling Curl's Blog Income Spreadsheet. It is super detailed, but she breaks down how to use it via a 5-day email course. It's well worth the money to see how you are growing in certain areas. I've been using it all year for 2016 and 2017 and love having a great spread of information to really track my income and expenses and growth!
I also recommend getting a Blog Planner! It's a great gift! Having a place to write down your goals daily, weekly, and monthly, as well as keep track of your editorial calendar, deadlines, and blog post ideas, a planner is an awesome tool.
If you do intend on making money and planning, I highly recommend buying some blogging legal forms from Businessesse. They are pricey, but take guess work out of writing contracts!
4 More Fun Blogger Gift Ideas
Branded Items
Your blog seems more legit when your website logo is branded onto products! Take your blogger's logo and put it on a ceramic mug, or a T-shirt, or iPhone Case, or mouse pad, or ornament on Shutterfly.com.
House Cleaning
Blogging takes a lot of work. And many bloggers could use a little gift of house cleaning duties being done by someone else other than themselves. Hit up Groupon and save money on house cleaning services in your area for your blogger. Or you can try Try Amazon Home Services to book a House Cleaning!
Childcare/Babysitting
If your blogger is also a parent, chances are they are juggling many things, and totally don't want to drop the ball on parenting. But, they also are very passionate about their blog work. Help them out by offering your own services to babysit their kids a few times, or pay for someone else to come in and help.
Gift Cards
Bloggers are known to buy supplies to help them run their blog. Help them out with a gift card. Grab them one to:
---
If you are looking for more gift guides and gift giving ideas, be sure to check out the following gift guides: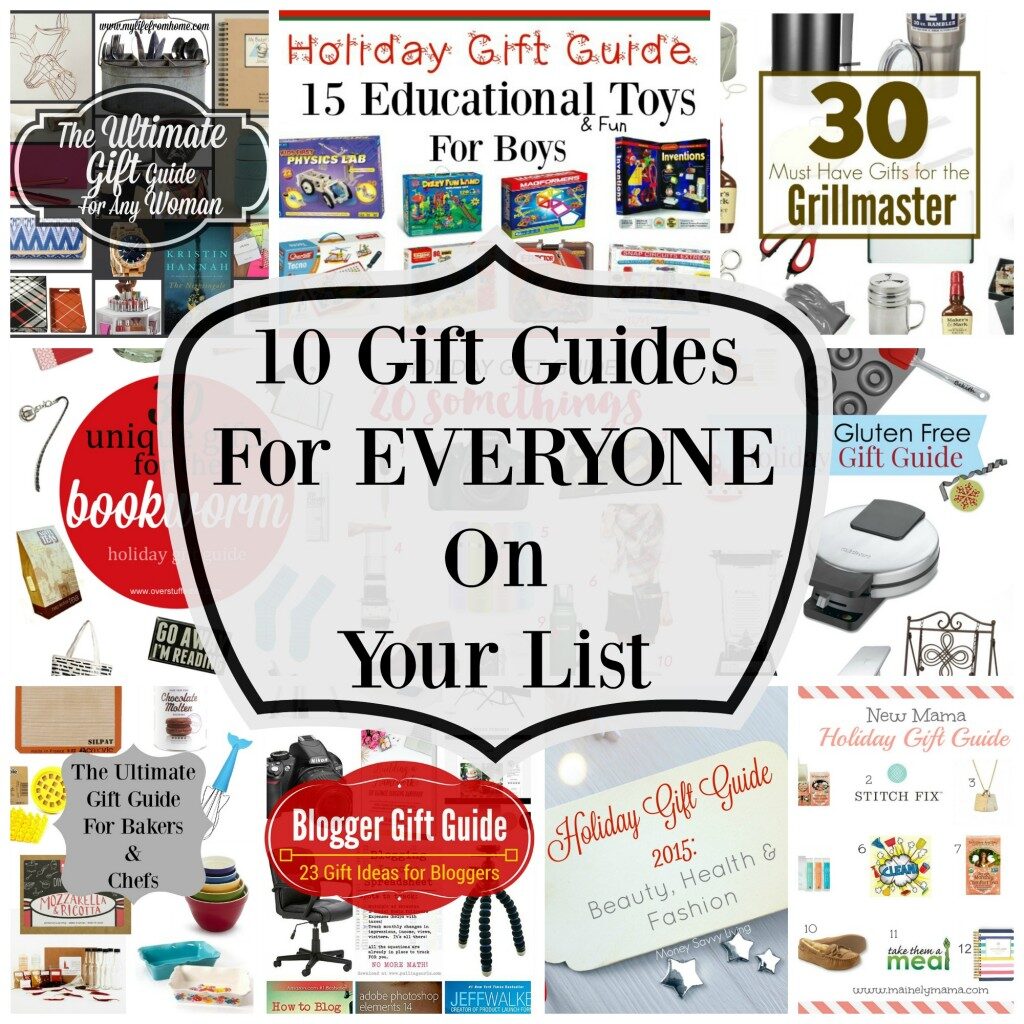 20 Something's Gift Guide
30 Must Have Gifts For The Grill Master
The Ultimate Gift Guide For Any Woman
Health, Beauty and Fashion Gift Guide
The Ultimate Gift Guide for Bakers & Cooks