Everyone wants to figure out a way to drive traffic to their blogs, and with the least amount of work possible. That's why I have to tell you about BoardBooster, the Pinterest scheduling tool.
Pinterest is my and many bloggers' favorite social media tool because it drives a ridiculous amount of traffic to our sites month after month, because on Pinterest, if you have a post that performs well for you, or from someone else pinning it and it takes off, it will show up in the top of search results. That's the power of Pinterest!
So, bloggers want to keep traffic streaming in from Pinterest, which means they need to be active, and get their content out in front of new people, and try to gain new followers. So many bloggers use Pinterest scheduling tools to automate their pinning strategy.
Some Pinterest schedulers are free like ViralWoot and Ahalogy or are only free until a certain point or limit how many pins you can pin in a month.
Most serious bloggers tend to start using a paid Pinterest scheduling tool like ViralTag, Tailwind, or BoardBooster in order to streamline their Pinterest pinning strategy.
I recently started to use BoardBooster, and I have to say it is the easiest way to increase traffic to my blog. It takes a little time to set it up in the beginning, but it's a set it and forget it scheduler, which is awesome for a time-crunched busy mom blogger.
What is BoardBooster?
Boardbooster is a Pinterest scheduling tool and has tons of awesome features, like campaigns, looping, group board feeding, as well as insightful statistics and analytics. It's pretty affordable at one cent per pin, offering plans in increments of $10 for every 1000 pins, or even a plan for 500 pins at just $5 a month.
Plus, the creator Dennis, gives great customer support and feedback, and is always looking for suggestions on how to make it the best Pinterest scheduling tool out there – just tell him what you want!
Plus, there is a referral program: each new signup under your link will get you $5 off your next bill. (So, if after this post you are interested in trying it out, please use my affiliate links that are in this post. Thanks!) You can try out their services for FREE for the first 100 pins.
How do you use BoardBooster?
I don't use all of the features available on BoardBooster, and he adds more regularly.
My primary function with them is their scheduler tool to automatically schedule my own pins to group boards. If you don't know what Pinterest group boards are, how to find them, and how to join them, check out this post on why you need to join group Pinterest boards.
Once you get into BoardBooster, the Scheduler is under Pinning Tools.
To start you need to add boards. You can add up to 10 group boards at a time (and keep adding them in increments of 10 or less until you have your most popular group boards loaded).
For every group board you load, a secret board is created with that board's name, but with a "-" in front of it. So, if the board is "Parenting Tips" then the secret board will be named "-Parenting Tips."
However, for the most part, I don't use these secret boards, because I don't want to spend a chunk of time loading pins to each of the 50+ secret boards that I just created. Instead, I set my source boards to a different secret (or public) board that contains all my blog pins for a single niche.
Doing this does take a decent amount of time, as you have to go through all of your old blog content in order to do this. However, you can just copy/repin them from a public Pinterest board that is dedicated to your blog already to hopefully speed up the process.
Just be SURE you are creating awesome descriptions for each of these pins, full of SEO keywords, as they will be pinned over and over again. Search is a huge element of Pinterest, so make sure to add searched phrases to the description, and to have rich pins set up for your blog.
Here are the different boards I have set up. The following are public boards: What's up Fagans? (for ALL blog content), What's up Fagans?: Parenting, What's up Fagans?: Pregnancy and Birth, and What's up Fagans?: Penny Pinching Tips.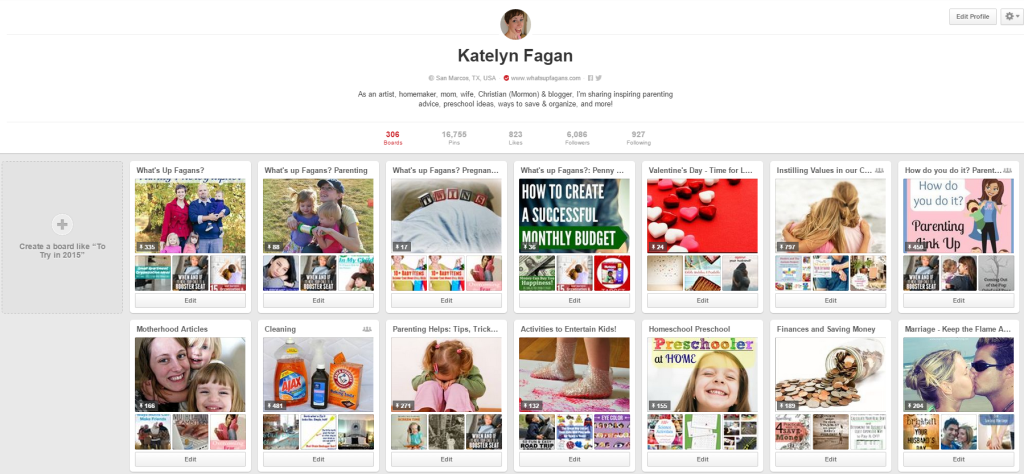 Next I have several private boards set up to make using BoardBooster easier. These are WUF?: Kids & Parties, WUF?: Crafts, DIY Tutorials, and How-To, WUF?: Homeschooling, WUF?: Blogging, WUF?: Health and Fitness, WUF?: Homemaking, Cleaning, and Organization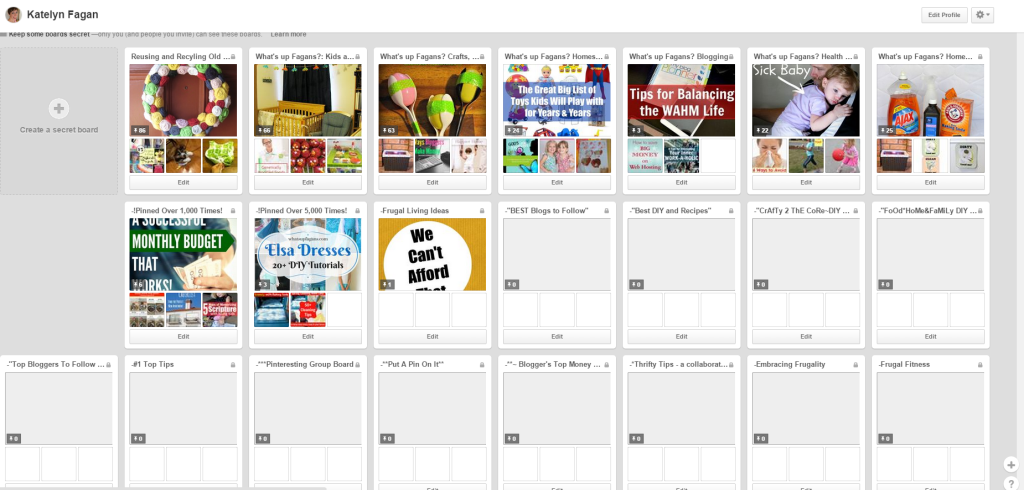 I upload all the (well-performing) group boards that fit these topics into BoardBooster, and selected the appropriate source board from the above boards I made, and selected how many pins I wanted to go to that board each day (or every other day), based on board rules, its size, and how many applicable pins I have to the board's topic.
Most of the biggest group boards I belong to, ones with 10k+ followers, set to pin three pins every day. Some I have set to only two (like one that has a board rule that you can only pin two a day) for smaller boards, so it doesn't become too littered with my content. Some I have just set to one pin or less a day if they are smaller boards, or if I don't have much content to share (i.e. for my homeschooling content).
The only time I may not use one of my larger genre boards, is in the case of boards that have specific requirements. For example, I'm a member of group boards called "Pinned Over 1000 Times" and "Pinned Over 5000 Times." Not all of my pin fall into these categories. It would then be beneficial to keep the secret board created by boardbooster for that board, and keep that as the feeder/source board for it, uploading pins to that board that did fit the specific requirements. I could also see using it for seasonal boards, or board where you only have a few posts that fit.
Set It and Forget It
Once that is set, I don't have to do anything pretty much ever again with my Pinterest account.
Okay, not really true, but it sure feels like it! For the most part though, this is a "set it and forgot it" service. I am am now an active presence on Pinterest throughout the entire day without having to manually schedule pins every day or week. It is indefinitely set up to keep pinning as I have it set up.
The only thing I do check on, is how my pins are doing on the group boards.
Even if I have only one pin scheduled to the board every other day, if all of the pins to that board are getting zero repins or likes, then I should probably ditch the board, and not waste those pennies, and add and set up other boards.
To do this, I simply click on the board on the scheduler page, and it will then pull up the latest pins they've scheduled for me to that board, complete with repin and favorited counts. If my pins aren't doing well, I can then stop the scheduler, or delete the board all together.
And that's pretty much all I have done with BoardBooster, and still have many group boards I could feed into it.
Has it really improved your blog traffic that much?
I started using BoardBooster around December 12, 2014. I want to show you my Pinterest analytics from before I started using it, until now, only a little over a month into using their service.
The above segment shows my sessions (visitors) on Google Analytics so you could see exactly when things began to improve. After about mid-December, those sessions have steadily increased. I know this is because I now have a consistent, regular Pinterest Pinning strategy. And, the best part is that once it's set up, it does it all for me, and for like $10 a month. No virtual assistants to hire, or complicated spreadsheets!
Before I started BoardBooster, I didn't have a real Pinterest pinning strategy, in part because making a spreadsheet, secret boards, or using some of the other Pinterest schedulers, just seemed far too time consuming to do all the time, so I never got around to it, or would only do it great for a few days or weeks, and then forget I needed to set it up again.
All I mostly did was schedule pins of my latest posts through ViralTag to the applicable boards, maybe schedule some seasonal/trending pins if I was a bit more on top of things, and that was it!
So, I was thrilled to learn about BoardBooster. Now my old content is regularly being refreshed to large, popular group boards!
BoardBooster is scheduling about 55-75 of my own content pins each day. I have also gained about 120-160 new followers every week, and according to last weeks' stats email, "Since [I] started using BoardBooster, it [has] helped [me] repin 1,994 total pins resulting in 11,014 repins and 1,991 likes." I think those are pretty great stats!
I am still using ViralTag to schedule my latest content to boards, although, I believe that is what the "Campaign" feature of BoardBooster is supposed to do for you, but I just haven't gotten to figure it out yet! So really, you wouldn't need to have a ViralTag or other scheduling tool.
So, while BoardBooster is boosting just my content right now, I try to make sure I am still pinning organically from Pinterest itself, pinning and/or scheduling pins of other's content I come across throughout the day, and even using Ahalogy every so often to get others content into my feeds as well, as I know it's not great to have only your content being shared on Pinterest.
However, I have not been marked as spam, nor do I think I will anytime soon. I think the main reason being that the posts I am sharing are not all the same, all day long. They change and vary each day. I'm also limiting the number of pins to a board to just 1-3 a day, all of which are different from each other.
But, you should be pinning other people's content too! And BoardBooster can help you find great content to pin to your boards, or even loop the pins you've already curated on your boards through a process called "looping."
Try BoardBooster for FREE and tell me what you think about it!
What do you do use for scheduling pins to Pinterest? What is your strategy like? 
This is part of the "Blogger Online Panel" hosted by Jill Levenhagen, Pinterest Strategist.  Read Jill's BoardBooster post about her and other bloggers' experience with BoardBooster."