Want to know more about being a Hometalk Blogger and how you can use Hometalk to drive more pageviews, gain subscribers, and earn money? Then read on.
I first heard about Hometalk back in 2015 from a blogging friend – Amanda of It's a Fabulous Life.
She was raving about how she was gaining massive pageviews from the Hometalk for a recent post she shared there about how to dye Easter eggs with silk ties (totally cool by the way!).
However, others in our common local blogging group said they didn't like sharing posts on Hometalk because they didn't see pageviews back to their site and were then essentially giving free content to Hometalk, which they didn't like.
So Amanda filled me in on her secrets of capturing some of the thousands and thousands of views her post on Hometalk was gathering so that I could do the same thing.
I am forever thankful for her!
Over my 2.5 year relationship with Hometalk, they've driven nearly 100,000 pageviews to my site, earned me over 700 email subscribers (at least), helped me sell multiple copies of my ebook, and earned me over $1000 from promoting their content on Pinterest and doing live demonstrations on their Facebook pages.
But, let's backtrack a little bit, shall we?
What is Hometalk?
Hometalk is the "world's largest DIY community." It's a user-generated sharing site for all things Home and Garden DIY. Hometalk receives 66 million page views a month and boasts over 12 million DIYers who share content, ask questions, and answer questions about all things Home and Garden regularly.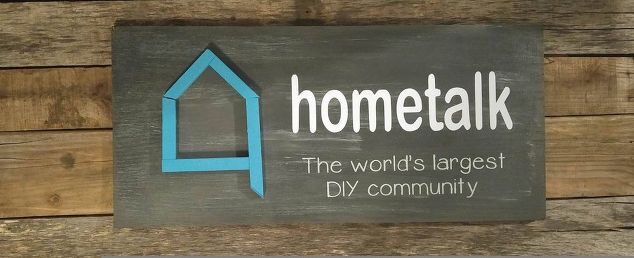 Content found on their site includes ideas, photos, and answers to things about:
cleaning
crafts
gardening
home decor
home maintenance and repair
makeovers (not the beauty kind)
organizing
outdoor living
painted furniture
painting techniques
remodeling
repurposing
seasonal decor
woodwork
They also have a huge social following: their Facebook page is massive with over 6.5 million fans. Their Instagram account has over 63,000 followers, and their Pinterest account has over 915,000 followers. Their email list is in the millions as well.
This is not some small site. It's a site that is full of real, engaged followers and it's growing. 
Who Can Join Hometalk and How Do You Join Hometalk?
Anyone can join Hometalk and start sharing their latest DIY projects and asking questions about Home and Garden DIY, not just bloggers. It's a true community of commenters and engaged users. Joining is super easy.
When you head to Hometalk.com, go to the top right-hand corner of their homepage and click the "Join Now" button.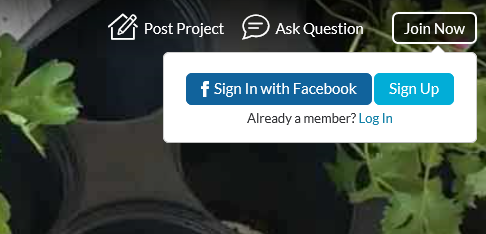 You can either signup with a Facebook account, or sign up manually by simply putting in your email address, name, password, and zipcode. They also ask you to upload a profile picture (or you can import your profile picture from Facebook).
However, underneath the profile photo, they ask an important question: "Using Hometalk for your blog or business? Click here."  Click it.
You will now see "Get more visibility and reach for your blog or business today! Find out more."
When you hover over "Find out more" it says:
Promote Your Blog on Hometalk

1,000,000+ people per month view the projects that bloggers just like you post on Hometalk. Get ready for referral traffic!

Promote Your Business on Hometalk

Get your business discovered on the largest home & garden social platform on the Web. Share photos of your work and answer questions to generate business.
There are also two new boxes available to you to click on "My blog" and "My Business." When you click the circle for "My Blog" it will provide another new drop-down option where you will enter your blog's url.
Hit the blue "Save" button and you are officially the newest member of Hometalk!
How Do I Use Hometalk as a Blogger?
First, set up your profile. You can do this under your profile picture in the top right corner. Fill in all the information about yourself, create a custom profile page name (likely your blog handle), fill out the About Me section, and even your favorite area of home improvement.
If for some reason you didn't tell Hometalk you were a blogger when you first joined the site, simply click the button that says "I am a blogger" and enter your blog url.
Next, go to your Account Status tab. It should say "You are currently a Blogger." You can change the status of your account here to a regular member account, a professional account, or totally deactivate your account too if you wish.
Next, fill out and connect all your social media channels by visiting that tab in your profile settings. You want people to follow you!
And now it's time to post a project!
How Do You Post a Project to Hometalk?
Every user is welcome to post a project to Hometalk. It's how the community works!
As a blogger, you will post projects to Hometalk just like every other user – by clicking the "Post a Project" button at the top right of your screen.
When you come to this screen, you'll be promoted to title your project and start sharing your project.
It gives you options to add text, add pictures, add video links, add hashtags, materials used for the project, estimated costs, difficulty level, and even add hyperlinks (you're limited to three per post). Photos are added between text blocks in the editor and can be moved around (drop and drag style) as needed.
Fill out all the extra details as it makes your post more searchable and more user-friendly.
Every Hometalk Project Post has to meet the following requirements in order for it to get posted:
100 words
3 Pictures
No more than 3 hyperlinks
Hometalk also automatically saves your drafts now too, so worries if you want to come back to it before hitting "Post," or your computer freezes while you're working on it.
You can schedule the project to go out at a certain time or day (I've never used this feature) or simply hit "POST" when you are done creating the content. You can also preview it before you hit "Post" to make sure it looks okay.
Posting projects is really super simple and doesn't take much time at all, especially if you're mostly copying and pasting from your own blog posts.
After you post your projects to Hometalk, others can find your posts in search and on the homepage, your Hometalk profile, and other places. You will likely receive at least a few comments and some traffic to the post without having to do much of anything to promote it.
Be sure to reply to any comments and questions you receive on your post!
You can keep track of the number of views your post has received at the top of the post underneath the title of the post after the first day of it being live on Hometalk; the first day it will simply say "New" there instead.
If you are lucky, Hometalk may even pick up your projects and feature them on their Facebook page or emails! They regularly select new high-quality content to share on their social channels (namely Facebook) which can bring you Hometalk followers and referral traffic back to your site (more about how to get more click-throughs in a bit).
To increase your chances of people naturally finding your Hometalk posts, use relevant hashtags (Hometalk regularly emails their Hometalk bloggers with a hashtag calendar so be sure you're on their email list), post seasonal and trending projects, use beautiful photos, clear well-written instructions, and in-process photos.
Hometalk Traffic Program for Bloggers
Because Hometalk values its best content contributors (bloggers), it's created several various blogger programs. Their main one and easiest one to participate in is called "The Hometalk Traffic Program."
Basically, the Hometalk Traffic Program rewards Hometalk bloggers who share regular high-quality content to their site with direct links to your website from their emails.*
This is huge. HUGE. Their daily email list is massive and the traffic goes straight to your site, not to your project on Hometalk first.
Being featured in their emails has brought me over 6,000 and over 7,000 pageviews in a single day and additional perks like hundreds of email subscribers (I'll talk more about that in a minute too).
*One note about the program: your direct feature will be one of a "rotation of direct links" in their email. This means Hometalk will feature four different blogger links within the same email, with the links rotating so that email subscribers will receive any one of the four links. This means if you receive their daily emails, you might not see your link there, though other subscribers will.
To take advantage of this amazing opportunity as a Hometalk blogger, you do not need to do anything special. You do not need to "sign up" for it.
If you are a registered blogger user, you automatically qualify for this program if you meet the following criteria:
Share 3 high-quality posts (projects) within a 90-day period. The 90-day period applies retroactively.
Your blog must be in the English language.
You must have three blog links saved under your account settings for the Hometalk editors to choose from.
In order for a Hometalk post to be considered "High Quality" it must meet the following criteria:
At least 200 words
Contains 4 pictures
Includes a before picture and a completed after picture
Includes a maximum of 3 blog links, all of which must be hyperlinked to your blog
Include a full description of what you accomplished in your post
Include enough instruction so that the reader can understand what you did and generally replicate your project
They give this Hometalk post as an example.
To maximize the amount of click-throughs your direct feature will receive, choose to submit links to blog posts that have in-process, or step-by-step, photos! Hometalk is all about the process photos and has trained its readers to like them. These have done better for me than other content I've submitted to them to feature.
How to Drive Traffic from Your Hometalk Post to Your Website
Remember how at the beginning of this blog post I said that there were some bloggers who did not like sharing their content to Hometalk because they didn't see much traffic come from sharing their content on Hometalk? Well, it's because you have to write your posts in such a way to encourage people to click through. If you don't, you will not see the traffic you'd like to see!
If you give away all the details on how to complete your project, the incentive to click through to your blog post on your site is little to none.
Which is why you should consider the following tactics when posting a project to Hometalk in order to drive more traffic to your blog:
Don't give away measurements in the post. Say things like "Mix the hydrogen peroxide, baking soda, liquid dishwashing soap, and lavender essential oil altogether in the spray bottle. See my post for full directions [hyperlink]."
Don't share every step. Instead, write something like "Find out the final steps on our blog! You won't believe how easy it is! [hyperlink]"
Only share a small portion of larger multi-step projects, like room reveals and makeovers and encourage people to click through to see how the small project looks in the larger completed project that is on your site.
Don't share where you bought certain non-common supplies. Instead, say something like "Find out where I found this great [piece] on my blog!" in your post.
Don't share all the fine little details and processes involved in your project (meaning don't copy and paste your entire blog post). Encourage them to get the full instructions on your site in the middle of the post, not just at the end.
Tell them you have more great content on [topic] on your site and link to the landing page of projects on that topic on your website.
Create an email opt-in incentive that relates to your project and link to a blog post about it. It can be a handy printable instruction sheet of the project, additional tips and tricks about [topic], or pretty printables that go along with the project somehow.
Include a link to a relevant product you sell. For example, at the bottom of my cleaning Hometalk posts, I say "If you love these type of practical cleaning tips for everyday things, be sure to check out Speed Clean the Deep Clean: A Collection of Time-Saving Cleaning Tutorials and Tips for Busy Moms! It has 50+ cleaning tutorials and tips to help you get every area of your home looking great, including this one!"
Even with using the above tactics, never expect to see a click-through rate higher than about 10%. People are busy and looking for inspiration often rather than full details right now. Many also don't want to leave the Hometalk site, and simply want the full tutorial on Hometalk and are too lazy/busy or stubborn to click through for all the details in your post.
But, if Hometalk shares your post on their social channels or in their emails, and it does well, 2-10% referral traffic can add up, especially if it starts to amass tens of thousands of views, if not more!
My best Hometalk project has garnered an astounding 1,629,000 views. But, despite using many of the above tactics to encourage people to click through, I've only seen about a 3.5-5% click-through rate to my blog. But, that still equals out to about 34,500 pageviews!
In total for the various projects I've written for Hometalk over the last 2.5 years (which is only 27 at the moment), I've seen 56,456 referral pageviews from their site. But, I've seen another 40,307 pageviews from their email direct features, for a total of 97,063 pageviews! And that's just for the traffic I've been able to see show up in my Google Analytics.
Those pageviews equal huge spikes in ad revenue. Those pageviews equal huge spikes in email subscribers. Those pageviews equal spikes in affiliate income. Those pageviews equal more sales of my cleaning ebook.
Optimize Your Blog Posts for Earnings and Subscribers
Whenever you share content to Hometalk, make sure your corresponding blog post is optimized for the traffic coming your way. It's a fresh new audience checking out your site so be sure to wow them and capture them the best you can.
For me, this means I have email subscriber incentives related to the blog post content and multiple sign-up forms and pop-ups encouraging them to signup for my email list. And it's worked. The day I received a direct feature in a Hometalk email, I received about 300 new email subscribers (and it could have been more but my ESP thought there was something spammy going on and temporarily suspended my account)!
If you have related products that you sell, be sure to highlight them prominently in your posts to help drive new sales.
Make sure you have ads set up on your site and have optimized with your ad provider so that you can make the most money possible.
Lastly, add in relevant affiliate links wherever possible in the post to increase your affiliate commissions! Any easy place to add affiliate links is your materials list!
To help your traffic continue, be sure to install easy to use and find social share buttons! You can turn direct traffic into on-going Pinterest traffic if enough people start pinning your content (it's happened to me!). You can also have it take off on Facebook or other networks so have share buttons installed on your site!
Gaining traffic, subscribers, followers, and money from Hometalk is a fun and rewarding endeavor that involves very little time and effort! I highly encourage you to become a Hometalker and start sharing your amazing blog content with a fresh new audience!
Be sure to check out my second post about working with Hometalk to make money directly from them!