If you want to know how to use Hometalk in order to make money as a blogger and/or DIYer, then you will want to read this post!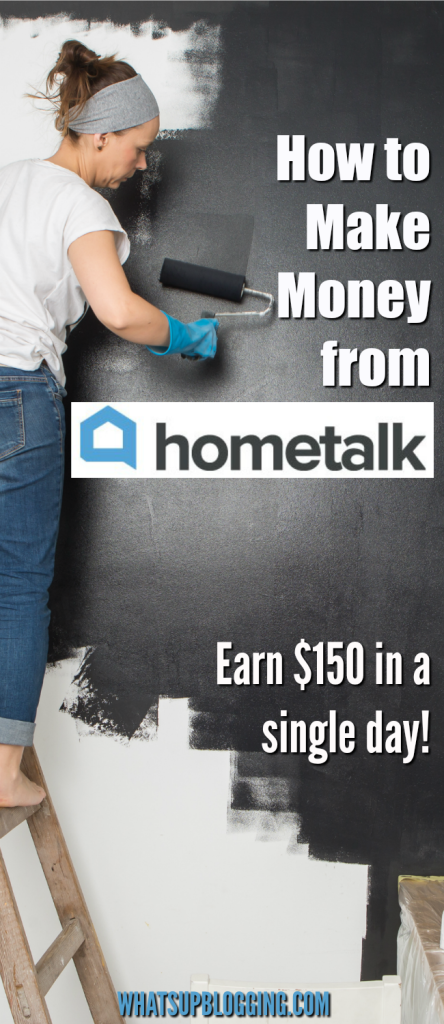 I recently posted about what Hometalk is and how you can use it to earn thousands of page views for your blog, as well as earn subscribers and make money from the traffic you receive (go ahead and read that post first if you are unfamiliar with Hometalk).
However, did you know that Hometalk, the world's largest DIY community which boasts 66 million page views a month and over 6.6 million Facebook fans, partners directly with Home and Garden DIY bloggers, paying them for sharing content on Hometalk's Facebook page and for sharing Hometalk content on their Pinterest account? Because they totally do!
Hometalk regularly pays content creators (bloggers and DIYers) $75-$150 to share amazing content directly with them and/or their Facebook pages and pays an $8 CPM to Pinterest users who drive traffic to their site!
If you post about the following topics on your website, then look into making money with Hometalk!
cleaning
crafts
gardening
home decor
home maintenance and repair
makeovers (not the beauty kind)
organizing
outdoor living
painted furniture
painting techniques
party decor and ideas
remodeling
repurposing
seasonal decor
woodwork
There are three main ways you can make money with Hometalk directly:
The Hometalk Pinterest Influencer Program
The Hometalk Live Streaming on Facebook Program
The Hometalk Video Footage Program
How to Make Money with Hometalk's Pinterest Influence Program
This is a fairly new program and one that I am in love with!
Launched in June 2017 directly to Hometalk Bloggers (and not published on their site or in their support forum that I can find), it's a program that Hometalk Bloggers can apply to be apart of. However, priority for joining will be given to Hometalk Bloggers who post actively and partake in their direct traffic program. But, any Hometalk blogger, regardless of the size of your Pinterest following size, is eligible for the program!
The Hometalk Pinterest Influence Program is set up to reward Pinterest Influencers (Pinterest users) for driving traffic to Hometalk by pinning specific Hometalk-created pins. They pay you for driving clicks from your pins to their site. They offer a $8 CPM, meaning for every 1000 clicks you earn $8! Get the right pins on the right boards and you can make at least a few dollars every single day.
This program is in compliance with the Pinterest pinning policies (they flew out and made sure). In fact, Pinterest recently named Hometalk as a prime example of a great affiliate program to use on Pinterest.
Hometalk also recommends being transparent on your pins and follow FTC guidelines for sharing paid content, but how you do so is up to you.
If you want your Hometalk posts to be featured in the Pinterest library, fill out this form.
How does the Pinterest Influencer Program Work?
If and when you are accepted into the Hometalk Pinterest Influence Program you will be given access to the Hometalk Pinterest library and a dashboard where you can see your clicks, earnings, and which pins are getting the most clicks.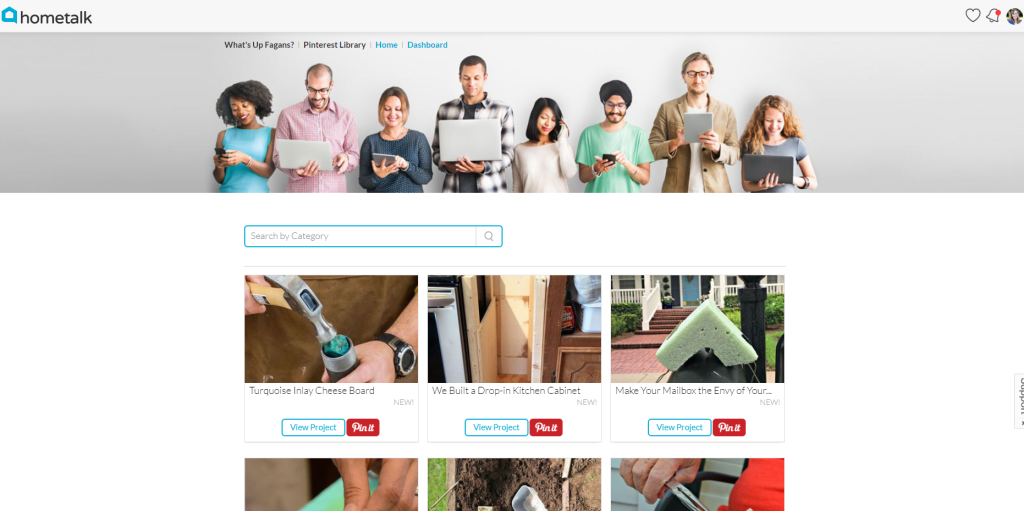 In order to make money for the traffic you drive to Hometalk, you much pin directly from the Hometalk Pinterest Library with the red "Pin It" button listed below the various images. You cannot pin directly from the Hometalk posts as there will not be a tracking code associated with those pins.
Everyday Hometalk uploads three (or more) new pins to the Pinterest library (and send you an email about the pins being added as well as any updates about the program). They also offer a search bar so you can search for content that does well for you on Pinterest.
Note that most of the pins they create are not what many bloggers consider "pretty pins" or pins stylized with bright, clear pictures and text. Some aren't even vertical and most don't even have text! But, know this is intentional. Hometalk ran several experiments with "designed" pins versus their "in-process" images and the latter leads to more clicks. Clicks are what they are after (and what they are paying you for) not repins or engagement!
If your personal Pinterest branding doesn't jive with these "ugly" pins then this may not be the right program for you, but if you are open to non-standard "pin-images" as part of your pinning strategy and want to monetize your Pinterest account, then this likely a great program for you!
Browse or search through the pins they've provided to find pins that you know will do well on your personal and groups boards to which you belong. And start pinning!
When you pin from the Hometalk Pinterest Library, they provide a pin description already, but most are pretty click-bait like… things like "WOW this looks amazing!" or "This is the coolest thing you'll see all day!" I tend to leave those there, but then also add in related keywords so people searching on Pinterest will find these pins.
To make sure I'm adding the right keywords, I always click through to the project page on Hometalk and see what materials are used, what the end product is, and so on, and then put those in my pin description.
Once I pin something from the Hometalk Pinterest Library, I go directly to that pin in my account and schedule interval reshares of the pin via [eafl id="9073″ name="Tailwind" text="Tailwind"] to any all applicable group boards and personal boards, spaced about a day apart.
To help you evaluate what pins are doing well, and which aren't, simply use the Hometalk dashboard reporting. Repin content that has already done well after it's been a little while since they went through your circuit of boards by simply clicking the "Pin It" button in your dashboard.
How do you get paid from the Hometalk Pinterest Program?
At the beginning of every month, Hometalk will send you an email with a statement about how much you earned through the program. You need to send them a Paypal invoice for that amount by the 15th. You will then be paid around the 20th of the month for the previous month's earnings.
Since I began pinning with them on June 18, 2017, I have earned $296.61 or an average of $2.88 per day!
You will earn more money from the program the more pins you share. There are no limits as to how much you can pin from the library each day nor limits on how much you can earn. They are always adding fresh new content too so you don't have to keep resharing the same pins to your audience.
And that's it! If you are already pinning content from others regularly, it's very easy, and quick to schedule some pins from Hometalk and get paid for them right away! I love being able to monetize my Pinterest account in such a direct way! No having to make affiliate sales!
Hometalk Live Video Streaming on Facebook
If you like Hometalk on Facebook, you are probably aware that they regularly have people do Facebook Lives!
Their vidoes garner lots of engagement, views, new followers, and share great new tutorials in real time with their audience. And YOU can be the presenter in this videos!
Launched in September 2016, Hometalk has welcomed all bloggers to reach out and pitch your Hometalk posts for a Live by emailing live@hometalk.com. Be sure to include a link to the Hometalk post you'd like to demo live. Note that everything you want to demo Live must be on Hometalk.
Hometalk also regularly identifies posts on Hometalk that would be good for a potential Hometalk Live and reaches out to the author directly.
Compensation for your first Live is $75 and full training, and compensation for every Live thereafter is $150. Know that Hometalk Live featuring products for sale by small businesses, brands, and stockists are not compensated.
The benefit of doing Hometalk Lives are that they drive exposure, reach, and new subscribers for you, the host. Your Facebook page is tagged prominently in your Facebook live description and you'll have the opportunity to invite readers to follow you directly on your blog during your live broadcast!

Plus, your videos are shared to Hometalk's Youtube channel and added to your Hometalk posts, with light editing, and when applicable turned into a one-minute shortened version for the Hometalk FB page.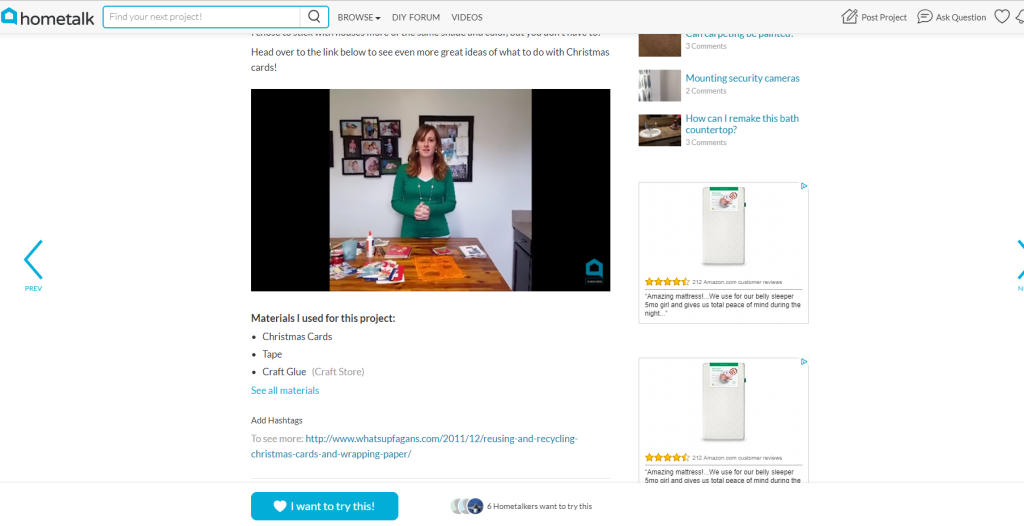 I have done six Facebook Lives over the last year. Assuming your first Live goes well, they will likely contact you about doing another right after you are done with your first, and from every future Live you do.
Here are some important things to know about doing Lives for Hometalk:
You have to have an iPhone or an iPad in order to do a Live.
You will receive a show outline document before your Live with details about the giveaway question, what to say at the beginning and end, how to increase engagement, and so on.
You must have a camera person. (I pay mine)
You must have a good Wi-Fi connection in your home or wherever you are filming.
Your Lives should be between 25-45 minutes long or longer.
You should prep as much as possible before your Live starts and have some easier and/or boring steps done ahead of time (mixing materials, cutting stuff, etc).
You must invoice them via Paypal within 48 hours of your Live.
You will be paid up to 2 weeks after your Live.
It's nerve-racking. You're LIVE in front of thousands of people and people are leaving comments in real-time about you and your project!
It's fun.
Once you get started doing Lives for Hometalk, and they decide they like you (and their audience likes you), you have the opportunity to do regular demonstrations for them! For a while I was doing one a month, and once even did two Lives in two weeks! They have multiple time slots available every single day.
Plus, if you are available to go Live last minute, they offer additional compensation for being "on-call."
The additional benefits of earning the $150 for going Live on their Facebook pages is the number of new Facebook page likes you receive! I've seen anywhere from 25-50 new likes on my page from a Hometalk Live! Considering I am lucky to get 50-100 new likes on my Facebook page in a single month, it's a huge boon to my follower count!
The Hometalk Video Footage Program
Hometalk offers a compensated video opportunity for Hometalk bloggers to create awesome videos together with Hometalk's brilliant video team!
If you love teaching people to DIY through video, this might be your chance. Participating bloggers send Hometalk original footage, so they can edit it, and get paid! They feature these videos on your corresponding Hometalk posts and on Hometalk's social channels.
Here is an example of a video you could make together (and has 113 million views and over 1.8 million shares!).
Compensation for approved footage is $75 plus training for your first video and every video after that is $150. Your blog will be credited in the video and you will be able to use the video on your blog and social channels as well.
How to apply: Hometalk welcomes all bloggers with experience in video to reach out and pitch your ideas. To be considered, please email kara@hometalk.com include an example of a past video you've done and a link to your Hometalk profile.
I have not personally participated in this program (creating short videos are not my strong suit) but do know that Hometalk has had several videos receive millions and millions of views on their Facebook page. I can only imagine that with the credit to your site, you'd also see additional Facebook followers! Plus, they're essentially editing video for you to use yourself on your channels, which I think is pretty amazing!
I hope that as you look for ways to monetize your blog you'll think about how to monetize with Hometalk! They offer some really great compensation opportunities for bloggers, videographers, personalities, and DIY crafters to make money from Hometalk!